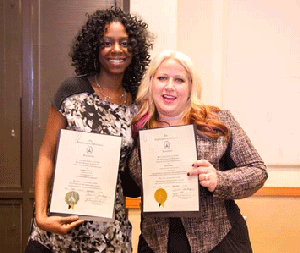 "Holly had to complete a Business Plan when she was in college," said Walker. "Youth and coffee were two things she loved the most. She also was tired of having to go to other areas to get coffee, and the lack of opportunities for youth. She felt people were complaining about them, but where not providing anything for them to do.
"The day she graduated from UB, she signed the lease to the building in the Hollins Market area. From there, she put up a sign, and within the first month, 150 people applied. I was one of those people."
In addition to Walker and Shook, CUPS Coffeehouse has three other employees— Avery Rich, Catering Manager; Jon Law, Advancement Officer; and Brittany Clapp, Youth Services Specialist; plus 10 interns.

The Baltimore native talked about some of the added 'perks' of working at CUPS Coffeehouse.
"A part of our employment requirement is that employees participate in enrichment courses and projects," said Walker. "They have to be ready to invest in themselves and give back to the community. They learn news skills, about new resources, and new ways of navigating life. They learn more about how to conduct themselves as positive members of society and becoming advocates.
"We also offer Therapy Tuesdays, which are thirty-minute long group therapy sessions. Seventy-one percent of the staff receive therapy once a week at the store. It is cognizant talk therapy to help the employees cope with grief and loss. Driving through the city and seeing balloons on a pole means someone lost their life there. We want to help provide stability and well being."
Walker says another location is "peculating."
"Right now we have a second location in the works in the Belair-Edison neighborhood," she said. "Our long-term goal is to be anywhere where kids are located."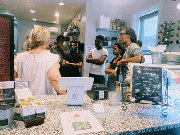 For more information about CUPS Coffeehouse, visit http://www.cupscoffeehouse.org/.