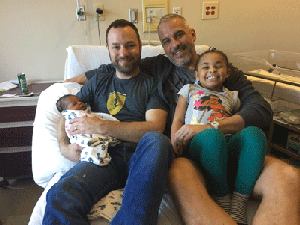 De La Cruz family
Father's Day has become a very special holiday for the De La Cruz family of DeKalb, Illinois. Their prayers were answered when their son, Ricky, received a life-saving heart transplant from an unknown donor and then experienced another miracle nearly two years later when Ricky received a kidney, and a second chance at life, from his dad.
Ricky De La Cruz was the firstborn baby for excited new parents, Dori and Lalo.
Ricky arrived in July 1998 and Dori remembers there were medical hurdles almost since the day he arrived.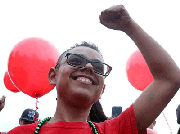 Right after he was born the baby stopped breathing for several minutes and his organs started to shut down. The baby suffered damage to his brain and kidneys. The couple soon learned their precious baby boy had been born with Hypoplastic Left Heart Syndrome (HLHS), a rare congenital heart defect in which the left side of the heart is severely underdeveloped. Dori remembers numerous doctors' appointments, lab visits and checkups throughout the first years of Ricky's life.
The Centers for Disease Control estimates each year about 960 babies in the United States are born with HLHS, which equates to one out of every 4,344 U.S. babies born, according to a news release.
When Ricky was a teenager he was diagnosed with Protein-losing enteropathy (PLE), which is a gastrointestinal problem that is typically brought on by heart failure. Ricky's PLE diagnosis was a flag for his medical team who immediately referred him to Lurie Children's Hospital of Chicago for further evaluation. In early 2016, the Lurie transplant team told Dori and Lalo that Ricky needed a life-saving heart transplant— and he needed it quickly.
During meetings with a transplant coordinator and a transplant social worker at Lurie, it was recommended the family research the Children's Organ Transplant Association (COTA) as an avenue for fundraising to help with transplant-related expenses.
"The day we got the call that Ricky was going to get a new heart I fell to my knees and cried," Dori said. "We were so thankful and grateful for this gift of life but also so sad to know someone had passed away for Ricky to be able to live with a new heart."
Ricky's heart transplant went well but his recovery was rocky. Post-transplant, his kidneys were further damaged and he had to be placed on dialysis for a portion of his inpatient recovery time. While his new heart was doing great, his kidneys could no longer keep up due to the previous damage they had suffered.
On January 29, 2018, Lalo gave a kidney and a second chance at life, to his firstborn son, Ricky. Thanks to COTA, an anonymous heart donor and his Dad Lalo, Ricky is stepping into adulthood. Dori and Lalo are thrilled he is now able to live on his own. At a recent medical appointment, they were told Ricky's heart and his kidney are doing great.
Dwight James
For Dwight James, president of the Zeal Group, a company that assists businesses and business owners in reaching organizational goals, the biggest challenge of fatherhood is allowing his five children to make their own decisions.