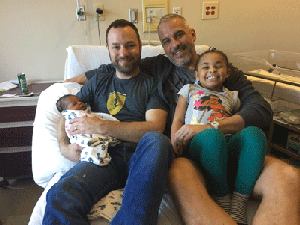 "I keep in mind that my job as a parent is to teach my children how to think for themselves; and for me to behave accordingly," said James, whose children are Joshua, 21; Jonathan, 20; Jasmine, 18; Justin, 17; and Jayden, 5.
With four of James' five children being boys, he provides insight on the nuances of raising children according to their gender.
"Girls are much easier in the early years— they're not as rough on the furniture," he said.
"As they get older, they need to trust you enough to confide in you so that you can guide them as much as possible through very questionable situations. They never share everything but hopefully they'll share enough."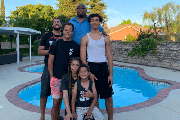 Nick Kamboj
For Nick Kamboj, the CEO of Aston & James, LLC in Chicago, one of the challenges he faced is having had to fly 4,000 miles roundtrip from Chicago to Los Angeles just to spend weekends with his daughter. It's a trip he has taken almost every weekend since 2012, when his daughter was just three-years-old.
"My daughter's mother and I met on-line, married at a destination and then divorced bi-coastally. We never cohabitated, and since I have an aging mother in Chicago, I try to balance my responsibilities as a son and as a father," Kamboj said. "It is challenging to do both well. However, if you ask my daughter or my aging mother how I am doing in both roles, they would state, that I am doing great— although at times, I feel that I can be doing better."
Being a divorced father and away from his daughter two weeks at a time, is when she gets ill, Kamboj said.

"Although the common cold may seem minor, it is nothing to scoff at, it can be very challenging for my daughter's mother who may need to take some time off work to take care of my daughter when she is ill," Kamboj said.
Kamboj says he speaks regularly on the telephone with his daughter and he also video chats with her. Although that's definitely not a substitute, he says it does provide some connection between him and his daughter.