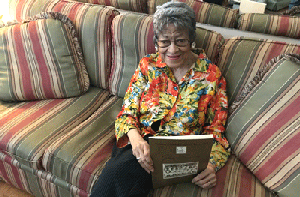 All programs and projects are financed by member donations, annual benefits, grants and corporate donations. Nationally, Continental Societies, Inc. serves over a quarter of a million children and youth annually.
The members provide financial aid to local youth through its Baltimore Continental Scholarship Fund. Since 1955, over $130,000 has been provided to students. All funds for this program are raised through the Annual Christmas Gala, which is held every December.
An avid writer, Turner's poetry graced the invitations for the Annual Charities Gala for more than a decade. Her daughter Robin Beamon "beamed" with pride as she looked over at her mother.
"Mom is a leader and she has executed many roles with The Continentals," said Beamon. "They do so much to invest in the future of children. They have made them a priority."
Members of the Baltimore Chapter have stood out as female leaders to other women and children for over 50 years. Baltimore Chapter members who have served on the National level are Doris Anderson Smith, Gloria Madeleine Campbell and the Late Dr. Susan Jones.
Gwendolyn A. Lindsay currently serves as National First Vice President of The Continentals. Ms. Lindsay was invited to join the organization by the late Zelma Cole Brown, a Baltimore County Public School Administrator, who taught dance in her private dance studio for nearly 40 years.
Continental Brown was a Past President of the Baltimore Chapter and her daughter, Lynda M. Brown has been a member of the Baltimore Chapter since 1992 and has served as Vice-President of the Chapter.
"What intrigued me to join was what the members did for underprivileged children in the community," said Lindsay. "We are small, but we do a lot to reach and advocate for children. "We want children to be successful and make an impact in their communities."
Mary Louise Brown, who has been a member of the group since 1998, is the Chapter Historian.

"I joined the organization with the idea of empowering children to achieve their dreams and aspirations through our projects," said Brown. "The Continentals have been the perfect extension for me to give back to young people."

Brown, who is a retired Baltimore City Principal added, "I also have great love and admiration for Charter Member Margaret Turner. She has such an infectious personality and is so genuine, very giving and helpful. What she did, and continues to do is write beautiful poetry that symbolizes what The Continentals are all about in terms of spiritual attitude and fortitude, giving to the community, and outreach to serve youth. We stand on the shoulders of Margaret Turner and the other co-founders who set the standard for us as Continental ladies."
For more in formation about The Continentals, visit www.continentalsocietiesinc.org.