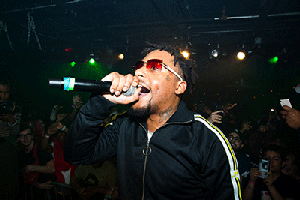 A$AP Ant (AKA YG Addie) booked his very own show at Milkboy Arthouse in College Park, Maryland, not far from our hometown of Baltimore. As an aspiring artist myself, I leapt at the opportunity to ask him about his upbringing, his musical inspirations and aspirations, and his clothing line, Marino Infantry, which hosts a team of skateboarders that mostly hail from the DMV.
Photos by Gustavo Marinho.
Jourdan Taylor (JT): So, tell us where you grew up? What neighborhoods in Baltimore were you hanging out in?
A$AP Ant (AA): "West Baltimore, for real, like 'Creek Boyz' and all that. Randallstown, Woodlawn, Old Court, yeah."
JT: How old were you when you got your start in music?
AA: "I've been in music since out the womb, DJ Nick, my brother, he put me onto like Hot Boyz and Lil Wayne and stuff like that when I was five or six years old. Music's just part of my family, for real."
JT: So you grew up around it?
AA: "Yeah, so… and people gotta understand this, like… You notice how everything revolves around rap music nowadays? The way you talk, smell, the clothing, - it's all black music… and [growing up] hip-hop artists were like superheroes, you know what I mean?… As soon as you were out the womb, and your mother put you in lil' Jordans, that's hip-hop."
JT: How did you evolve your own sound, in an era of rap that many see as "stale?" Working with producers like AR and lordfubu, who have very unique beats that compliment your unique flows - when did you start to feel like you had your own distinct feel to your music?
AA: "Clipse is one of my biggest influences. They have a song called Grindin', where they are talking about some very serious stuff but it's a more playful beat. It's an iconic beat. I loved that Neptunes' sound and - I guess you could say 'Pharrell type-beats.' When I made my first songs, I probably sounded mostly like Clipse. But at the time I just wasn't perfecting it yet, because when you don't know your sound you want to play off of other people's sounds.
"When [A$AP] Rocky was making Three 6 Mafia-type songs, you got 'The Way It Go' from me… My influences at the time were changing. I tried 'trap beats' too. (Ant puts his hands up and does air quotes as he says trap beats...) Me and lordfubu were talking for about a year before we made our first songs together - just discussing beats. I can't say that he made beats for me up until recently - now, he'll say 'oh, YG Addie's gonna love this one', but at first, we just developed a good relationship, for real. It was my song, 'Diamond Dust' that really took this all to the next level… That came out and I started to love that sound."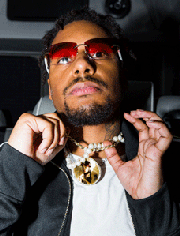 JT: You already talked a little bit about how Hip-hop/Rap heavily influence culture, and how that's specifically black culture. What gave you the idea to create Marino Infantry, a skate team - in Baltimore - seeing as many people believe skateboarding is seen as an activity that mostly white people participate in?