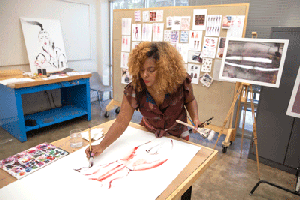 Kris told her mom she wanted to do an internship in New York City. Gwen told her there was no way they could afford it— but Kris had already accepted the position. Her mother had hardly ever been out of Tennessee.
"I learned something about faith from her," said her mom. "Because she was so confident that this was going to happen. And it did."
The world is her canvas
Kris completed her internship and went back to New York for two years after graduation, working in fashion merchandising for companies such as Ann Taylor and Blue Planet International. And then, New York wasn't enough.
At the London College of Fashion, she learned the basics of garment construction and how to tell a story through clothing. She found her way all over the world— Turkey for denim and Barcelona for printing. And she made her home in London by connecting the city with her art.
"Because I was new to the city, I didn't know very many people. I'd just go out and draw people," she said. "And then that kind of led to me illustrating at fashion shows. And then that led to me showing my work on Tumblr, before Instagram and stuff. Then companies found me and that led to me doing freelance fashion illustrations."
After a health crisis abroad, she became curious about her blood, and how she could tell that part of her story.
Hematology, a collection in waiting
Kris' doctor at St. Jude gave her slides of her own blood cells to support her brainchild — a capsule womenswear collection called Hematology.
"Red Cell" and "Jaundice" silk travel scarves are already available, featuring Kris' dreamy, haunting prints, which clearly have a concrete influence.
The literal threads of the Hematology collection are spun to intertwine Kris' artistry in her illustrative prints, "practical luxury" for the traveling woman, and those abnormal blood cells. The cells that run through her body every minute of every day. The blood that keeps her alive but that also reminds her to be careful, careful.
A future collection will draw inspiration from Kris' neighborhood growing up, where her parents still live. An exhibition of Hematology will expose her work to a larger audience and show a new generation of women they can turn their art into the tangible. Kris considers options to move back to New York or London. Tokyo is in the mix.
Whatever she does next, wherever she makes her home, her blood runs through it.