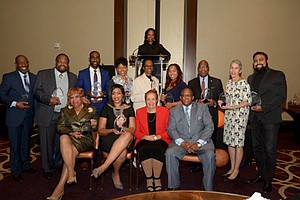 Baltimore Times Holds Positive People Awards
Monique Smith-Person has a real-life story that reads like a movie script. She was stolen as a child. But Smith-Person is using her own personal story to help others through advocacy. The self-published author is determined to be a voice for missing children who cannot speak for themselves.
Smith-Person was among those honored at The Positive People Awards. Presented by Times Community Services, Inc. the event was held at Horseshoe Casino on Wednesday, November 13, 2019.
"The event was exceptional, not only for me, but for my guests," said Smith-Person. "It was a wonderful experience. I was honored to be among such a wide array of outstanding individuals. The Positive People Awards was a great display of how Baltimore should be viewed. Unfortunately, we are not viewed as people who love our city. However, this event epitomized that there are people who love this city and their communities."
LaTara Harris, AT&T Regional Director, External Affairs, emceed the event and presented the awards. The event included dinner and music. Proceeds benefitted Times Community Services. Approximately160 people attended the event including Baltimore Mayor Bernard C. "Jack" Young.

The Baltimore Times and The Annapolis Times, along with Times Community Services, Inc. - the publication's non-profit foundation, work to uplift and celebrate the human spirit and the power within all people to improve their quality of life and that of their community. Since 1992, the paper has been giving Positive People Awards to men and women who have exemplify those ideals.
"The Positive People Awards was a great success," said Baltimore Times Publisher Joy Bramble. "We honored a diverse group of people that included business, political, and community leaders. This event pays homage to those who are doing wonderful things to help other people. They are helping to change the narrative of our city."
Jason Bass was among the honorees. Bass overcame environmental challenges, to serve as the former CEO and co-founder of Treason Toting Company. Bass is the CEO of "The Night Brunch," a popular pop-up dining experience. In addition to his "Positive People Award", Bass was surprised with an award named in honor of the late Ackneil M. Muldrow, II.
Muldrow was a longtime businessman who advocated for uplifting and empowering African Americans. Muldrow's career included serving as the president and chief executive officer of the Development Credit Fund, Inc. The Fund was a $7.5 million loan pool formulated to provide low cost financial assistance to minority-owned businesses operating in the state of Maryland.
"Ackneil Muldrow was a person who loved to help people," said Bramble. "He also loved entrepreneurship. He was always happy to share information and promote people. He had that fantastic rolodex."
She added, "We felt Jason Bass was the ideal person to receive this award. He epitomizes what Mr. Muldrow was all about. Like Mr. Muldrow, Jason Bass understands the importance of helping others and creating legacy wealth to pass along to future generations."

Dr. Elaine Simon was also honored. Dr. Simon is the organizing founder of BACO (Baltimore Association of Caribbean Organizations) and president and event planner for the Caribbean American Carnival Association of Baltimore.