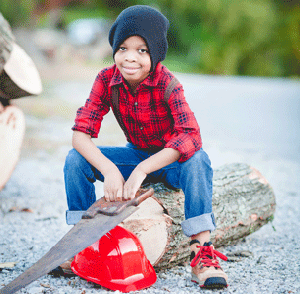 The Maryland Department of Transportation State Highway Administration (MDOT SHA) and Motor Vehicle Administration (MDOT MVA) want children to see and be seen this Halloween. To help increase visibility of Maryland's youngest pedestrians, the agencies will distribute light-up bracelets Wednesday, October 30, from 3 p.m. to 6 p.m. at participating Giant Food stores, and at select MDOT SHA Maintenance Shops and MDOT MVA branches. MDOT SHA is providing the bracelets for children to wear while trick-or-treating and is distributing bookmarks with safety tips as part of its "Light Up for Safety" walk smart initiative.
"Light Up for Safety is an opportunity to stress the importance of pedestrian safety with both walkers and drivers," said MDOT SHA Administrator Gregory Slater. "With Halloween, and the upcoming time change that will bring dusk earlier in the day, we want to make sure drivers and pedestrians are looking out for each other."
Parents can pick up bracelets and bookmarks at these locations while supplies last:
Allegany County – MVA, 13300 Winchester Road SW, Cumberland, 21502;
Anne Arundel County – MVA, 6601 Ritchie Highway, Glen Burnie, 21062;
Baltimore City – Giant, 1020 W. 41st St., 21211;
Baltimore County – Giant, 6340-50 York Road, 21212;
Calvert County – Giant, 655 Solomon's Island Road North, Prince Frederick, 20678;
Caroline County – SHA Denton Shop, 508 Caroline St., 21629;
Carroll County – Giant, 405 N. Center St., Westminster 21157;
Cecil County – MVA, 105 Chesapeake Blvd., Suite A, Elkton, 21921;
Charles County – Giant, 200 Rosewick Road, La Plata, 20646;
Dorchester County – SHA Cambridge Shop, 2954 Old Route 50, 21613;
Frederick County – Giant, 1700 Kingfisher Dr., Frederick, 21701;
Garrett County – MVA, Route 135 & Weber Road, Oakland, 21550;
Harford County – MVA, 501 W. MacPhail Road, Bel Air, 21014;
Howard County – Giant, 9200 Baltimore National Pike, Ellicott City, 21043;
Kent County – SHA Chestertown Shop, 615 Morgnec Road, 21620;
Montgomery County – Giant, 13490 New Hampshire Ave., Colesville, 20904;
Prince George's County – Giant, 3521 East-West Highway, Hyattsville, 20782;
Queen Anne's County – MVA, 230 Hess Road, Grasonville, 21638;
Somerset County – SHA Princess Anne Shop, 10980 Market Lane, 21853;
St. Mary's County – Giant, 45101 First Colony Way, California, 20619;
Talbot County – MVA, 9178 Centreville Road, Easton, 21601;
Washington County – MVA, 18306 Col. Henry K. Douglas Drive, Hagerstown, 21740;
Wicomico County – MVA, 251 Tilghman Road, Salisbury, 21801;
Worcester County – SHA Snow Hill Shop, 5603 Market St., 21863.
"Whether you are driving to a party or walking around the neighborhood, Halloween should be a fun evening for families and friends," said MDOT MVA Administrator, Chrissy Nizer and Governor Larry Hogan's Highway Safety Representative. "Pedestrians should 'walk smart' by always looking both ways before crossing the street, using crosswalks whenever possible and wearing something to ensure you can be seen, like our 'Light Up for Safety' bracelets. We ask all drivers to remember to exhibit their best driving behaviors, including slowing down, looking out for pedestrians and always designating a sober driver."