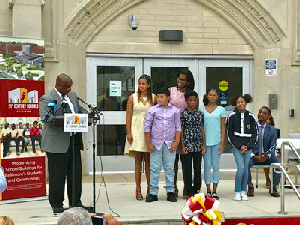 "When the safe place doesn't have air conditioning, when the safe place doesn't have heat, and when you can't use the toilet in the bathroom or shut the stall [door] in the bathroom, it no longer becomes the safe place. But for the students at Arlington Elementary, that's no longer the case anymore. They will be going to a school like no other. We can't stop there. We have to make sure every single student is afforded the same opportunity."
Arlington also has three new playgrounds, and through the Harry and Jeanette Weinberg Foundation, the school now has an Early Childhood
Developmental Center to offer developmentally appropriate education, health, case management and family support services to children and their families. The school also features collaborative learning areas, designed with movable furniture and technology.
"Imagine how much more we can do when all of our schools reach the standard of the 21st Century buildings as the one we are acknowledging today," said Linda Chinna, Board Chair for the Baltimore City Schools Board of Commissioners. "The School Board is really on a mission to be certain that all of our students are career and college ready at a 22nd Century standard. They all do deserve to have the best facilities and resources and we will continue with that focus."
To see a short video of the ribbon cutting, visit: www.baltimoretimes-online.com.