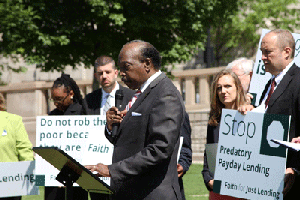 The way to a better life in this or any year begins in a home where young minds are supported and nurtured… Places where values that last life-long are taught… including the duty to reach back and help others who have struggled their way out of want and lack.

There is nothing second-rate about the hopes and dreams of people who have few or meager monies. In the wealthiest nation on earth, doesn't everyone deserve a chance to live free without the burden of discrimination?
As co-sponsor of the 1968 Fair Housing Act (FHA), former Vice President Walter Mondale participated in HUD's 50th anniversary program honoring the pivotal legislation. He termed the Act's passage as "one of the great miracles in modern history."
"When the federal and state governments will pay to build new suburban highways, streets, sewers, school and parks but then allow these communities to exclude affordable housing, the goals of the Fair Housing Act are not fulfilled," continued Mondale. "When we build most new subsidized housing in poor black and Latino neighborhoods, the goals of the Fair Housing Act are not fulfilled."

I heartily agree. Secretary Carson has a duty to pursue housing justice for all. Just as our nation fought a war to abolish slavery, we now need a war against public policies that bless the wealthy while condemning everyone else to misery.
It's time to put real fairness into fair housing again— for all.
Rev. Dr. Willie Gable is the Chair of the National Baptist Convention USA, Inc, Housing and Economic Development Commission, and Senior Pastor of Progressive Baptist Church in New Orleans, LA.