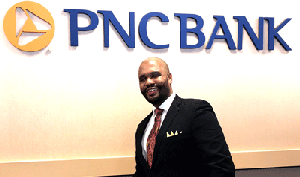 Harris will be facilitating a workshop geared towards educating small businesses about credit.

"My workshop will discuss the nuances of business credit and business finance," he said. "Businesses have to be able to get the credit they need to sustain their business. I will be emphasizing PNC's proactive approach and commitment to support minority enterprises under our CRA business, lending program. Obviously, Baltimore is home for me and my heart and soul. I have traveled to other cities to teach this forum.
I am excited to be able to teach it in my hometown."
In addition to Harris, PNC Bank branch manager Sherry Curry will also be among the presenters. The other presenters are: Nicholas Cohen; Everett Sands; Chris Rockey; Carrisa Carson; Adam Holofscener; Paul E. Taylor; Cassandra Vincent; and Takia Ross.
"I will cover the credit part from a traditional banking standpoint, but we have all types of seminars on promoting your business," said Harris. "We have something for everyone looking to start or grow their business. We handpicked these presenters. We selected individuals who are well informed in their various fields, and operate in excellence in their individual expertise, and who are passionate about their work.
"I am also excited about the partnerships we have with Morgan State University, and Coppin State University. I am particularly proud of the fact that we are utilizing and collaborating with our HBCUS in Baltimore to host these events. PNC has established really impactful and robust relationships with both schools. I am encouraging everyone to come out and take advantage of this empowering event."
To see a short clip of PNC's Harris and Curry discussing the Mind Your Business event, visit: www.baltimoretimes-online.com
To register for the event, visit: www.mindyourbusinesspnc.eventbrite.com.