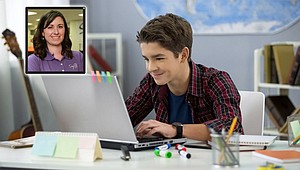 Levitt recalled her own personal experience, while offering tips for parents.
"It's harder for teachers to keep track of students virtually, than if they are in the room with you," she said. "I got my kids set-up on Zoom. One was playing a game, and the other
was fixing a snack while the teacher was teaching. It was not the teacher's fault. I let one of my sons have his class from his bedroom on his bed. However, I brought them each a desk for their rooms. Now, there are no video games and no television. This provides an environment which makes them feel like they have to do their work and not lounge around."
With a virus that presents a challenging test for the coming school year, Levitt believes preparation is the key to 'passing' it.
"This is a good time for parents to look at their children's learning environment and other things they do have control over," she said. "In the spring we were not ready and did not see Coronavirus coming. Now we know what is coming. Parents can reassess and see what they can do to meet the more rigorous demands."
She added, "Parents should have a good workspace for their children with no distractions. It can be a corner on a table in a living room. Anything a parent can do that gives their children a dedicated workspace for school. For parents of children who are behind, are have learning disabilities, that is even more important."
Levitt is a former middle school teacher.
"Nobody wanted the pandemic to be a push, but education needed a push," she said. "There is a silver lining here. We can learn and education can take a big jump forward. Not just K-12, but colleges and universities too. I think one of the hugest things is that everyone understands now, is that without a K-12 system, the whole economy can fall apart. Parents cazn't go to work. If we are not bolstered the way we should be, everything falls apart. I hope everyone learns that lesson when this is done."
She added, "I also think snow days are a thing of the past. Everyone can log in now. Good luck to everyone, be kind to each other, and we will get through this together."
For more information visit https://www.sylvanlearning.com /.