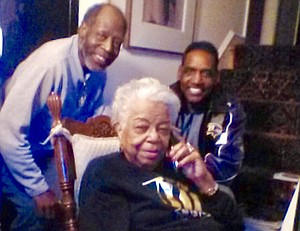 A student at Walbrook in the 1970s, Wardell Woodrow Wilson, Jr. recalled the school's principal Dr. Anne O. Emery seeing him without wearing his proper choir attire.
"As a choir member, we were supposed to have on red blazers," recalled Wilson. "She asked me why I didn't have on my blazer. I explained I was working full-time because I wanted to buy a car. She sold me my first car - a blue 1963 Dynamic '88 Oldsmobile, dirt cheap. Her students were everything to her, and she would do anything for her students."
Dr. Emery was a graduate of Tuskegee University (formerly Institute). Wilson, who is also an alumnus, credited Dr. Emery with "steering" him to the school.
"One of the greatest things she created was the Tuskegee Club," said Wilson. "The bus was filled with students and went to Tuskegee Institute. She was so nurturing. She was a great leader and a soldier on the battlefield. I called her Mama Emery. That is a title higher than Dr. Emery."
Dr. Emery, who founded Heritage United Church of Christ with her late husband, Vallen L. Emery Sr., died Wednesday, August 19, 2020. The Ashburton resident was 93. At Baltimore Times press time, funeral arrangements for Dr. Emery were still being arranged.
Rita Harris-Bowers is a lifelong member of Heritage United Church of Christ, located on Liberty Heights Avenue.
"My parents came soon after Dr. Emery and her husband started the church," said Harris-Bowers. "She and her husband tried to join a church and were denied. That's what got them going to start Heritage. Thirty years later, the church wrote an apology for rejecting them. Dr. Emery had that letter posted in her house. She was a powerhouse. No matter where she went, people knew who she was."
Harris-Bowers reflected on Dr.Emery's quest to ensure students went to HBCUs (Historically Black Colleges and Universities).
"She started so many organizations at Heritage, including a college tour," said Harris-Bowers. "We rode for a week on the bus, and would hit all the HBCUs along the way. She knew all the college presidents. Once they were on that college tour, a lot of those kids got full scholarships. It brought tears to my eyes. She wanted every person that crossed her path to get a higher education." She added, "She was well into her 80s still riding that bus. There is not one young person that would not have something powerful to say about Anne Emery and her support in their journey of academia and beyond."
Lynda M. Brown said she was a mentee of Dr. Emery. "I first met Dr. Anne as a child in the early 1960's in the basement of the Heritage United Church of Christ, where the Baltimore Chapter Jack and Jill of America met to participate in positive cultural experiences," said Brown. "Throughout my life, Dr. Anne was a mentor and adviser. I admired her commitment to community organizations and her dedication to the education of all young people she encountered. Dr. Anne was always crisp, well-groomed, stylish, smart, and full of integrity."