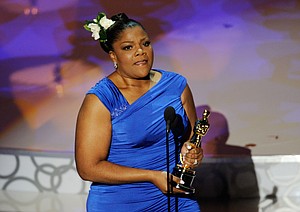 When Mo'Nique won the best supporting actress Academy Award in 2010 for her performance in "Precious," she thanked her husband for showing her that "sometimes you have to forgo doing what's popular in order to do what's right."
She is still living that way a decade later, even if Hollywood may see it as something different.
"I believe winning that Oscar award, just as Hattie McDaniel, she said, 'I felt like I was cursed instead of winning something that should be congratulated,'" Mo'Nique told CNN in a recent interview. "That award was something that I did not ask for, but because I didn't respond the way people thought that I should have responded, as Lee Daniels said, I was blackballed."
Some industry observers have suggested Mo'Nique is a victim of the "Oscar curse," the belief that winning an Academy Award does little to help most actors and in some cases causes them to be less successful in their careers.
Mo'Nique has said she's been labeled "difficult to work with" and "tactless."
From the stand-up circuit to the Oscar stage Born and raised in Baltimore, Maryland, Mo'Nique was already what folks like to call "black people famous" via her career as a stand-up comic and actress who told it like it was.
But it was a different kind of acclaim after being hailed for her performance as the abusive mother, Mary Lee Johnston, in "Precious."
What followed was not only her Academy Award win, but a well-publicized dispute with the film's director, Lee Daniels, and producers Tyler Perry and Oprah Winfrey, which, according to Mo'Nique, stemmed from her decision to spend time with her family rather than travel to promote the film overseas.
Mo'Nique has said she was paid $50,000 for the role, and she told CNN she was only contractually obligated to promote the film domestically.
She felt her work was done when she declined the producers' offer to send her to Cannes Film Festival, something she now says did not go over well at the time with Daniels, Perry and Winfrey.
"It was almost a feeling of 'the nerve of you,' especially when you are a black woman," Mo'Nique said.
That choice, Mo'Nique believes, earned her a reputation for being problematic to work with and proceeded tensions with other black stars, including Steve Harvey and Whoopi Goldberg.
Daniels told "Raq Rants" in 2018 that he fought for Mo'Nique to be cast in "Precious," "and for her to badmouth myself and Tyler and Oprah is disrespectful and it's wrong."
"No one blackballed her," Daniels said. "Mo'Nique blackballed her."
Reps for Daniels and Winfrey did not respond to CNN's request for comment on this story. A rep for Perry declined to comment.
Getting her 'due' Mo'Nique has said that some have blamed her professional setbacks on her husband, Sidney Hicks, who is also her manager, the man she says taught her to love.