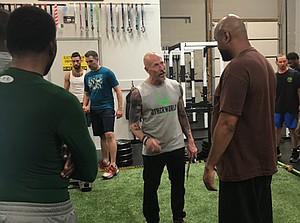 "We donate $5 per shirt or hoodie sale to Helping Up Mission. A guesstimate for this year's donation would be several hundred dollars. I still struggle with paying the rent because everything has come out of my pocket and we are not turning profit just yet," said Guinan.
Even though the business hasn't broken even yet, there are a number of impactful stories from participants whose lives have drastically changed from being in the program.
Another participant at Otherworld Fitness, Guinan's son, Tim Leif, 32, was granted an intern position at Helping Up Mission after being sober for almost two years. At the age of 21, Leif started using prescribed pain killer pills. A few years later, Leif turned to the streets in search of heroin when his doctor stopped the prescribed medicine.
"I can't even give you a number of how many times I overdosed. My family was scared for my life. They have no idea how many times I ended up in the hospital," said Leif.
Leif says that drugs took him away from his loved ones. He dismissed and isolated himself. Fortunately, he was able to regain his life back when he started exercising.

"Racing and working out help me escape and be more determined and competitive. Exercise helps me create my foundation physically, mentally and emotionally," said Leif.
Participants at Otherworld Fitness receive a unique experience at this athletic club in Frederick, Md. The club offers a particular sport known as Obstacle Course Racing (OCR). This competitive sport is growing in popularity each year and requires a special level strength and determination.
In 2010, the Institute for Sport Science and Clinical Biomechanics at the University of Southern Denmark conducted research that indicated that physical exercise can provide important support in the treatment of drug abuse. Also, in 2018, studies the University at Buffalo Research Institute on addiction concluded that exercise can be beneficial as it may help the brain in ways that can support treatment as well as prevention strategies for addiction.
Dr. Anika Alvanzo, a medical director at the Substance Use Disorder Consultation Services at Johns Hopkins Hospital explains that the literature is mixed, concerning whether or not exercise is effective for individuals with addiction.
"I think it depends on the outcome you are looking at. It depends on the substance, the patients' population, and also, it depends on numbers of variables, such as the type of exercise, the duration of the exercise, and so on," said Dr. Alvanzo.
Dr. Barbara Mai, a psychiatrist at the Mai Center for Wellness and Energy Therapies in Gaithersburg, Md, says physical activity and workouts bring a healthy challenge into the recovery process.
"Clinically, I have routinely seen that patients who incorporate an exercise plan into their daily health promotion report feeling better mentally, emotionally, and physically. The descriptions may vary, however, the progress is measurable," said Dr. Mai.
Dr. Mai emphasized the importance of team sports as an outlet for recovering addicts. She believes that team sports equip them with the tools to stay sober after treatment ends.