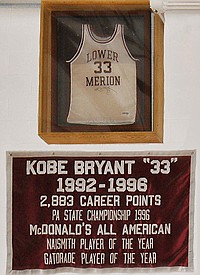 Kobe Bryant was the only man in history to win five NBA championships, two Olympic gold medals, four All-Star Most Valuable Player Awards and an Oscar. And he could speak four languages. A Beethoven fan, he was a genuine man of many gifts and interests.
Many measure Bryant's life by the numbers, but his humility, sacrifice and tireless work ethic shone through. He was the youngest starter in NBA history, at 18 years and 158 days old. Bryant became the first guard to play 20 consecutive seasons and all with the same team. When he retired in 2016, he had scored more than 30,000 points.
The greatness of Kobe's athletic career merited a first-ballot selection to the Hall of Fame, as the basketball world unanimously agreed. He would have been inducted into Hall this year even if he had survived the helicopter crash near Los Angeles that killed him, his 13-year-old daughter and seven other people on Sunday.
But the world lost more than a hardworking phenomenon known for a picturesque jump shot and graceful style of play. Lost was an honest voice that shared a lot. He told his mercurial story in heartening detail. He shared his uneasiness with life, and people who were not hardcore NBA fans felt a connection to him.
"When I was growing up in Italy, I grew up in isolation," Bryant said in 2015. "It was not an environment suited to me. I was the only black kid. I didn't speak the language. I'd be in one city, but then we'd move to a different city and I'd have to do everything again.
"I'd make friends, but I'd never be part of the group," he added, "Because the other kids were already growing up together. So, this is how I grew up, and these are the weaknesses that I have."
Bryant's plainspoken humanity and link to the outside world are not typical in professional sports. He donated at least $1 million to the National Museum of African American History and Culture in Washington, D.C. In Los Angeles, he backed My Friends Place, a safe haven for homeless youth; and Stand Up on Second, which offers job training and finds jobless Americans housing.
"The most important thing is that you try to inspire people so they can be great in whatever they want to do," Bryant said.
Part of his message, however, was centered on the sort of sacrifice he made during every off-season— working out at 3 a.m., spending countless hours in the gym perfecting his artistry. . . instead of enjoying his wealth and down-time with his wife and daughters.
"We can all be masters at our craft, but you have to make a choice," Bryant said. "What I mean by that is, there are inherent sacrifices that come along with that: family time, hanging out with your friends, being a great friend, being a great son, nephew, whatever the case may be. There are sacrifices that come along with that."
Bryant won five NBA titles with the Los Angeles Lakers, one short of his idol, Michael Jordan, but more than most. In times of duress, he wanted the ball, seeking the responsibility of a game's biggest moment. Often he delivered.