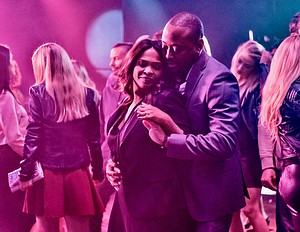 The script pulls on everyday vulnerabilities many long-standing couples face. Ellie confesses to David that her marriage has issues: "One day you wake up 20 years later and the person next to you is a complete stranger." Fine. Then the plotline becomes far-fetched and never comes back to earth: As it becomes clearer that the tech wizard is willing to threaten her marriage and family, Ellie sets up a meeting with David in a restaurant. What really scared woman would invite her stalker to brunch? Sullivan and Garner needed to dig a lot deeper for the dialogue, characters' backstories and motivations to turn this drivel into something remotely compelling. Something that would make Fatal Affair more fiendish and macabre like Fatal Attraction.
Paul Sullivan's direction lacks style, which puts more pressure on the storyline and plot pieces to rouse anxiety and keep an audience's attention. As the feeble thriller aspects mount, desperate phone calls are dialed, missed opportunities to escape grow and touches of gruesomeness add up to nothing. If you're debating a trip to the fridge as the film progresses, don't. Just get up and grab that beer, soda or pint of ice cream and be assured that you won't miss one crucial plot detail that will stop you from figuring out how the film will end…
Fans of Nia Long will be happy to know that she still has her chops. She's as beautiful as she was back in Boyz 'N the Hood days. Older, more mature and as captivating. Omar Epps is a solid actor always capable of making you believe his character. Both seem far better than the material. The unlikely scene-stealer is Stephen Bishop. His career is not as storied as the two lead actors, which makes him a bit of a mystery. He turns the role of Marcus into the guy next door, a man who you think you know from somewhere, but you really don't. Friendly, concerned and adapting as things spiral out of control, Bishop deserves a leading role in a film.
Fatal Affair never builds to the dramatic desperation its genre requires. Never becomes more than the sum of its parts. That's a crime. More of a crime than any felony in the movie.
Visit NNPA News Wire Film Critic Dwight Brown at DwightBrownInk.com and BlackPressUSA.com.