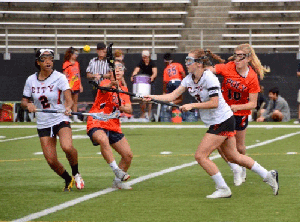 Of the 650 applicants for the 2020 "Minds in Motion" scholarship presented by the Maryland Public Secondary Schools Athletic Association (MPSSAA) and Allstate Foundation, only 18 student athletes throughout the state were picked as winners, and of those 18, two Baltimore City College students earned scholarship honors.
Three-sport athlete Grace Pula and baseball standout Leo Rubinson, both graduating seniors from City College, were named winners of the award after the list was announced by the MPSSAA on May 18.
Since 2008, the 'Minds in Motion" scholarship has been presented annually to student athletes who have shown tremendous initiative in the classroom and their respective sports.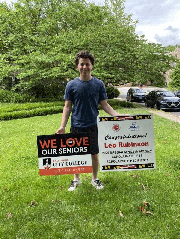 The criteria for the applicants was that they had to be seniors with a minimum 3.25 unweighted GPA and participants in interscholastic athletic activities sponsored by the MPSSAA during their high school careers.
City athletic director Rolynda Contee recommended that Rubinson and Pula apply for the scholarship, along with several other student-athletes.
Contee, who is in her third year as AD, said she was excited to hear two of her student-athletes received award honors.
"It just goes to show that our athletes work very hard at City College on and off the court," Contee said. "The fact that those athletes were able to multitask, still be able to get good grades and still excel in their respective sport actually speaks a lot of volumes about City College."
Pula expressed similar sentiments.
"It was really great to see us being recognized and not overshadowed like we usually are," said Pula, who was glad to win the award with her childhood friend.
"And it was also great to win it with Leo because Leo and I [have] gone to school together since kindergarten. Like we were best friends in elementary school, so it was really nice to win it with him too."
Pula registered a 4.0 GPA. With the advanced courses she took, her weighted GPA is about 5.28, she said. She excelled in soccer, swim and lacrosse all four years at City.
Some of Pula's athletic accomplishments include: leading goal scorer on the girls lacrosse and soccer teams for two seasons; received MVP honors for lacrosse and soccer teams; soccer team captain since sophomore year and lacrosse team captain since junior year.
Pula led her lacrosse teams to city championships her freshman, sophomore and junior seasons. In lacrosse, Pula played at the center position. In soccer, she mainly played at center-back and in swim competed in various freestyle, back stroke and relay events.
For the entire school year, Pula was occupied with sports but was able to manage being a full-time athlete and student, on top of covering athletics for the school newspaper, The Collegian, serving as a student ambassador, and being a member of the environmental club and honor society.
"I honestly think that being so busy helped me maintain my grades," Pula said. "I was trying to be a good example for my teammates, I wanted to make my family proud, I also wanted to make my teachers proud as well so I just kept pushing."