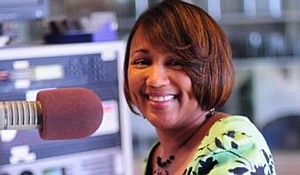 "Tyra had a saying, 'Therefore, having obtained help from God, I continue unto this day.'" said Jones. "And that was what she did. I have a message Tyra texted to me six hours before her demise. I will never get rid of that text."
Chanel Crowder said she has been a part of the Gospel Grace family since 1997.
"Tyra was so sweet and loving. She loved God so much and embraced everyone. We are devastated and shocked about what happened. Her faith, family, church, and Gospel Grace family were the things she most enjoyed. Tyra was a special person we will always cherish and remember."
Heaven 600 AM on-air radio host Lee Michaels shared reflections about Womack.
"She was always a pleasant and warm spirit, whose signature dimpled smile exposed the love of God that was in her heart!" said Michaels.
Frederico Hemphill recalled working with Womack years ago on Video Hair Magazine, a television show that highlighted black hair and fashion. Hemphill said the two first met as students at the Broadcasting Institute of Maryland (BIM).
"I asked Tyra if she would host Video Hair Magazine," said Hemphill. "We were an independent show with no money. She agreed to do it with no pay. Tyra just lit up the camera. She was a natural."
He added, "I never met Tyra's son. I only knew her daughter. But if her son possesses even a fraction of the qualities she possessed, I believe he is going to be a very powerful young man. Because of Tyra's actions, another black man did not die that day."
Kim Chase hosts WEAA's Live and Uncut.
"Tyra was always smiling, pleasant, and agreeable," said Chase. "She was always understanding, and carried herself as a Christian woman."
Mark Waldrum is the host of Gospel Grace Instruments of Praise.
"Tyra was organized and dedicated", said Waldrum. "She was God-fearing, professional and took her craft seriously. She did everything to a tee. She was a wonderfully Godly woman. She was proud of her son, family and church."
He added, "The way she left us saddens me. I think it highlights we must do something about the violence. We are totally fed-up. Tyra was such an influencer of young people. That's her legacy."