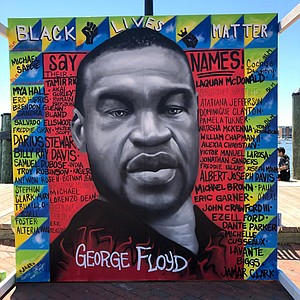 "It's a big shift going on in the world," Brown said. "I've already seen in the 24 hours that it's (the mural) been up, it has already created great conversation."
  A former white classmate even reached out to tell Brown that he wants to know more about black culture, and that he now realizes that his life journey has not been as difficult. Brown's friend is not the only one who is interested in delving into social issues many African-Americans face.
  The day after the mural was constructed, Courtney Garton, an Annapolitan of 45 years, stood outdoors in Annapolis holding a neon sign, while trying to raise consciousness about changing police culture. African-American men drove by in their cars, while beeping their horns, to affirm agreement with the written poster message. On one side, the sign read "STOP KILLING BLACK PEOPLE!!" On the other, "CHANGE POLICE CULTURE" was inscribed in large letters. Garton says he wants conversations about reforming police departments to occur, as opposed to defunding them.
  "I believe that systematic racism was created by white people, and I think that white people are [the] ones that need to change it," Garton said. "I'm trying to get to a point where I really understand what it is like to be a black person in this country, and more and more, I'm understanding that the color of your skin is discriminated against in this country."