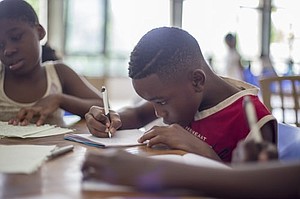 U.S. Senator Chris Van Hollen (D-Md.) has announced the introduction of the Homework Gap Trust Fund Act, legislation to eliminate the homework gap and ensure children have access to the internet at home. According to the Senate Joint Economic Committee, as many as 12 million students do not have access to the internet at home. Data also suggests that while 70 percent of teachers assign homework that requires internet access, almost 20 percent of students don't have home internet access to complete it. The homework gap impacts students in both rural and urban areas and disproportionately impacts lower-income students and students of color. In order to address this issue, and to better provide students with the opportunity to succeed, Senator Van Hollen's legislation would direct revenue from the upcoming FCC C-band spectrum auction to create a Homework Gap Trust Fund to pay for priorities that will help close the digital divide.
"Every child deserves the opportunity to succeed. But without internet access at home, many students face significant barriers in completing their schoolwork. The homework gap exacerbates educational inequality, and we must work to address it immediately. That's why I'm proud to introduce this legislation, which would invest a small portion of the revenue from the FCC's upcoming c-band auction in the future success of our children and our country. This investment is worth every penny, and I urge my colleagues to support it. Whether it's through closing the homework gap, or fully funding Title I and IDEA, I will continue working to provide every student with a quality education," said Senator Chris Van Hollen.
The legislation is endorsed by: The American Federation of Teachers, The National Education Association, The National Rural Education Association, Maryland State Education Association, Prince George's County Maryland Government, and AFT-Maryland.
"So much of our students' learning today is driven by internet access – the ability to access timely and accurate information, participate in group projects, communicate with classmates and teachers, and utilize valuable resources often requires a computer and a connection. So students in some zip codes are learning by one click, while others – including those from communities of color, people with disabilities, low-income households, and rural communities – can't even access the Internet. This opportunity gap is a crisis. Thankfully, Senator Van Hollen is committed to removing barriers to digital access with a solution that levels the playing field and enables more affordable, reliable broadband service for every student in this country," said the American Federation of Teachers President Randi Weingarten.
"We applaud Senator Van Hollen's commitment to closing the homework gap to ensure that all students are on an equal footing with high speed internet access when it comes to doing their homework," said Marc Egan, Director of Government Relations at the National Education Association. "The use of spectrum auction proceeds to support teaching and learning after the school day ends is exactly how we envision the FCC using a portion of these public funds – especially after deciding to auction off part of the wireless spectrum reserved for education institutions, known as the Educational Broadband Service. A solution as simple as providing students with mobile hotspots to do their homework will go a long way in closing the unnecessary and inequitable homework gap."