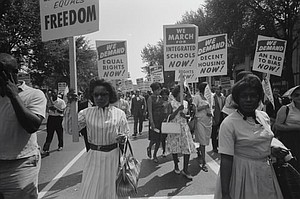 So, what are we going to do about that? I know what I will do: I will fight for laws that will guarantee every American a voice in our democracy. That is why I have introduced bills like the Democracy Restoration Act (S.1068) to restore the federal right to vote to ex-offenders, and the Deceptive Practices and Voter Intimidation and Suppression Act (S.1834) to penalize the voter suppression efforts so frequently aimed at minority communities.
It is also why I am a fervent supporter of H.R.4, the Voting Rights Advancement Act. This bill, which was passed by the House of Representatives at the end of last year, would remedy the Supreme Court's 2013 decision decimating Section 5 of the Voting Rights Act and thereby strengthen our ability to prevent discriminatory changes to state voting laws and procedures. I thank Senator Leahy for championing this bill and call on Leader McConnell and Chairman Graham to urgently bring H.R.4 for consideration in Committee and in the Senate.
Let's honor all of those whose struggles for freedom and equality throughout our nation's history have been met with violence and hatred. Let's carry on their torch and help make their dreams a reality. Let's fulfill the right to vote.