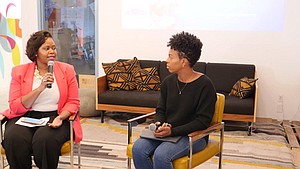 Publisher Joy Bramble and her colleagues could not have asked for a better finale to the Community conversation for this series, in particular, which was themed "Vision for a Healthier Baltimore."
The three-hour forum featured seven panelists and Dr. Letitia Dzirasa, commissioner of health for the Baltimore City Health Department.
Following opening remarks from Bramble and moderator Cassandra Vincent, Anthony Sutton was given the floor. Sutton, a personal trainer with Brunch N' Burn, led the guests through five light warm-up exercises they can do to begin their day.
Dzirasa, a native of Prince George's County and resident of Baltimore for the past eight and a half years, sat in the front of the room with Vincent for a discussion on notable topics surrounding health in the local community.
Also, a Hopkins-trained pediatrician, Dzirasa shared her vision for a healthier Baltimore, which meant equitable access to quality medical care and services and taking a public health approach to community concerns.
She also provided tips for COVID-19 (coronavirus) prevention and preparedness, and updated the inquisitive audience on some of the initiatives and programs of the health department.
In addition, Vinny DeMarco and Stephanie Klapper of the Maryland Citizens' Health Initiative spoke briefly on health insurance programs that attendees could take advantage of.
Concurrent with the day's theme, Baltimore City Councilman Zeke Cohen (District 1) spoke extensively on the trauma-related experiences that adversely affects youth. He noticed that there was no legislation in place to provide responsive care to individuals who had traumatic experiences, which prompted the proposal of the Trauma Responsive Care Act in February 2019.
The bill, later renamed the Elijah Cummings Healing City Act, was signed by Mayor Bernard Young on Feb. 9, 2020 and calls for: (1) a city-wide task force, (2) training for all city agencies in the science, symptomology and responses for trauma victims and (3) each city agency to assess policies to reduce traumatization in Baltimore's most vulnerable communities.
"I just wanted to make sure that we as a city are really responding effectively and that we're not just ignoring this problem or putting a bandaid on a bullet wound," Cohen said.
"I'm proud to say this bill was passed three weeks ago, which makes Baltimore a national leader in the movement for trauma-informed care."
The panelists in attendance were: Sha'Von Terrell of the Black Church Food Security Network; Jenell Steele, a registered nurse and fitness coach; Will Walker and Anthony Sutton of Brunch N' Burn; Quentin Vennie, a wellness expert and author; Tsanonda Edwards of Above It All Inc.; and Brianna Billups of Fully Grown, LLC.
After each panelist introduced themselves and the mission of their organizations, they too shared their vision for a healthier Baltimore along with their individual efforts to fulfill that vision.
Holistic health, wellness, Black health, and food disparities were among the main subject matters addressed during the panel discussion.
Eliseba Osore said she was drawn to the event because of her natural interest in engaging in health-related conversations in the city.