America ReFramed, the award-winning documentary series dedicated to showcasing independent documentary films highlighting the mosaic of life and cultures in contemporary America, returns for its eighth season at 8 p.m. EST on Tuesday, May 5, on WORLD Channel. The new season premieres with Where The Pavement Ends from filmmaker Jane Gillooly, a powerful and intimate examination of segregation and racial injustice in the neighboring towns of Kinloch and Ferguson, Missouri. Presented by WORLD and American Documentary, Inc. (AmDoc), new and encore episodes of America ReFramed will air on Tuesdays throughout 2020.
For the first time ever, America ReFramed will also be debuting on Link TV (DirecTV 375 and Dish Network 9410), the independent non-commercial satellite TV network that connects U.S. viewers to the world. Starting at 9 p.m. ET/PT on May 8, Season 8 will begin to roll out weekly on-air and online. Earlier this year, Link TV and WORLD Channel announced a content-sharing partnership that would bring programming to more than 100 million homes. With a shared commitment to bringing the best in news, documentaries and fact-based information programming from around the world, the collaboration allows viewers of both networks to better understand perspectives and cultures around the globe while examining issues too often ignored by mainstream media.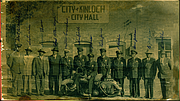 Season opener Where The Pavement Ends transports viewers to Missouri towns Kinloch and Ferguson, examining the shared histories and deep racial divides affecting both. Through archival audio recordings, photographs and the recollections of residents from what was the once all-Black community of Kinloch and the all-white community of Ferguson, director Gillooly, a Ferguson native, draws parallels between a 1960s dispute over a physical barricade erected between the towns and the 2014 shooting death by police of Michael Brown which brought her town national attention. A haunting and mesmerizing look at the deep and lasting wounds of segregation and racial injustice, Where The Pavement Ends shines a light on the pride and tragedy of Kinloch while also reminding viewers of the countless American neighborhoods, separated by mere blocks, whose residents live worlds apart.
"The eighth season of America ReFramed is one of the strongest we've seen, continuing to showcase important stories that resonate with diverse audiences," said Chris Hastings, executive producer and editorial manager for WORLD Channel at WGBH Boston. "The films highlighted this season reflect not only the different cultures and lifestyles that make up modern-day America, but the many different ways in which people strive to obtain the American ideals of happiness, equality and freedom."
Season 8 continues on May 12, celebrating Mother's Day with Nadia Shihab's documentary Jaddoland, a co-production of the Center for Asian American Media and WORLD. An intimate portrait of the work and process of the director's visual artist mother Lahib Jaddo, Jaddoland offers viewers a fresh look at the immigrant story in America. Through an exploration of her mother's art and connections to her life in Texas, Shihab also drafts a unique picture of how art can help both the creator and the audience make sense of familial and cultural connections, loss, perseverance and life.