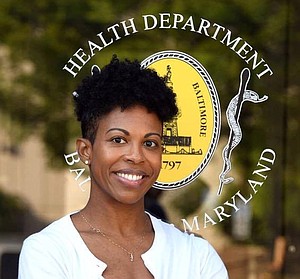 PHR has partnered with other community-based organizations to express the need for personal protective gear, facemasks and food distribution and access, Jiggetts said.
Access to testing is a key priority for Dzirasa and the BCHD. As it currently stands there are three testing sites: in Pimlico, Druid Hill Park and Clifton Park. She and her colleagues are also brainstorming ways to implement mobile testing.

Additionally, Dzirasa and her team have rolled out messaging specifically targeted to the black community with guidance around social distancing and available resources.
"We actually have paper flyers that we work with volunteers and with our staff to distribute," Dzirasa said. "Additionally, we've hosted focus groups to try and understand, 'OK, how do we target our message toward the African Americans?' At one point we were concerned the message wasn't getting to young people, so adjusting our messaging as we see fit so that it really reaches who we're trying to reach."

Dzirasa has been on panels, radio interviews, webinars and attended an NAACP town hall forum to decisively address the Black community.
"I do think there's value in having a health commissioner that's African American. I think being much more relatable and saying 'I recognize what some of these challenges are, but we are hoping we can help you overcome them together.'"
A public-private partnership between BCHD, University of Maryland Medical System, Johns Hopkins Health System and CareFirst BlueCross BlueShield is constantly organizing strategies around tackling the coronavirus.
"We appreciate the partnership and what they bring to the table," added Dzirasa, "and look forward to growing and expanding the work that we're already doing."