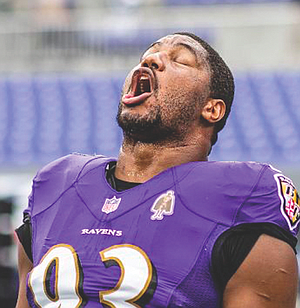 The Baltimore Ravens squeezed out a close 30-28 win over the Philadelphia Eagles on Sunday, October 18, 2020. Baltimore was in control for most of the game until they held off a late surge by the Eagles.
This was a game the Ravens were supposed to win since the Eagles came into Sunday's game with a 1-3-1 record. It wasn't the easy win that analysts expected. Philadelphia made the game closer by putting up 22 points in the fourth quarter. "This team, they have winners. They have guys who can make plays and step up in big moments. You have to tip your hat off to them; they fought hard," Calais Campbell said after the game. "They didn't quit; they just kept coming and they made a couple big plays. Obviously, we're going to break the tape and clean it up, but you have to respect that. In the moment when it really mattered— they're going for two— our guys came up big to close the game out. They made a play and made it interesting, but we knew they had to get two. So, we showed up and made a play when it counted and won the ballgame."
Eagles quarterback Carson Wentz pushed his way into the end zone for a one-yard touchdown to pull within two points with 1:55 left in the game. Philadelphia tried the two-point conversion to tie the game up but the Ravens stopped them.
Games like last week's matchup have a way of galvanizing a team. They learned that in tough times there are players that will step up. "Usually when you go out there and beat teams by a lot sometimes teams get cocky. The Eagles put up a fight with us. Honestly, we needed that," Lamar Jackson said after the game.
"These are the kind of games that build character. This is a championship character that's built in moments like this. That's the kind of fight I like to see in my team," Campbell added. The 5-1 Ravens currently sit behind the still undefeated Pittsburgh Steelers (5-0) in the AFC North race. While the Ravens head into the bye week, the Steelers head to Nashville to face the Tennessee Titans.
A loss to Tennessee would set the Steelers up for a game that would determine who moves into first place in the division. Jackson said the Ravens have to keep moving forward during the bye week and come our ready for their clash with the Steelers.
Ravens vs. Steelers is one of the most intense rivalries in football. Baltimore gets the bye week just in time to get healthy. Campbell hasn't played the Steelers yet as a member of the Ravens, but he is looking forward to it and thankful his team got the bye
"It's huge, just re-grouping. [We're] 5-1 going into the Bye [Week]; we get a chance to just catch our breath, get our bodies right, and then we come out of the Bye [Week] with a big one," Campbell said. "This is the game that they say, 'You're not really a Raven until you play against the Steelers.' So, I'm looking forward to the opportunity; it's going to be a great game. But during the Bye [week] I'm just going to relax, hang with the family and try to take care of my body, and then get ready to go to work."