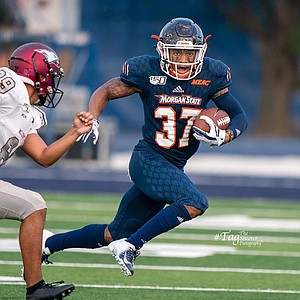 "Our slogan for him and everything for the funeral was, 'Everything he touched turned to gold,'" Wood said. "I loved his tenacity. He was a go-getter. I mean just to see somebody set something [in] their mind, and you already know, nothing is going to stop them. That's who Jordan was." Wood recounted a comical yet telling story. Her husband, James Wood, once remarked to a very young Jordan that he didn't know his numbers beyond a certain point. He shocked his uncle, when he informed him that he did know them. The child rattled off his numbers way beyond the point at which he was challenged.
"To me, it's a reminder of how smart he was academically," Wood said. "And you know he was going to go far, because he was always like— 'I'll show you, not tell you.'"
Layers of loss accompany great disappointment. Jordan's loved ones will never see him get married, have children or earn an expected NFL contract. However, Wood identified ways the community can support Jordan's family. Praying for their strength is one; keeping Jordan's memory alive is another.
"Don't stop talking about him and his legacy in 20 short years," Wood said. "I would just say if you want [something], go get it. Just don't let anything stop you. And that's what I would say was his mindset and his attitude."
To support his mother and enable her some time off work during this time of bereavement, donations can be made via Cash App to $cheremgoode or Pay Pal via cherecofield@hotmail.com.